Login Data
Each newly created HTML5 user receives an email confirmation. The email is sent to the email address that was entered into the user administration and contains a login link for protel Air and the login data (username and password).
After the first login, the user will be required to enter a new password. The password must contain at least seven characters and must consist of numbers and letters. The user will then be automatically logged into his default hotel.
If the user forgets his password, a new password can be sent to the user's email address via the "Forgot your password?" function.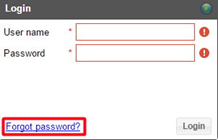 Figure: protel Air Login-Dialog >
Accessing the "Forgot your password?" function
In accordance to security provisions, the password will need to be changed every 90 days. 20 days before the 90 days are over, you will receive a message informing you that your password is going to expire. If you want to change your password because you received this message, or you have a new user account, or you simply want to change the password, then click on the user icon located in the upper right corner of your browser window and click on [Change password].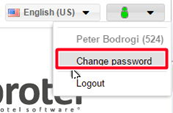 Figure: Accessing the "Change password" - Function in protel Air